Post by Crossed Admin on Nov 29, 2009 14:24:49 GMT -5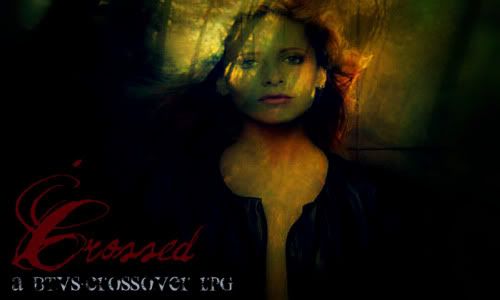 ~ Crossed ~
[/font][/size]
Crossed is a brand new Buffy the Vampire Slayer RPG. It takes place after the ending of season 7 and season 5 of Angel. There's plenty of canon characters to choose from, including a few surprise ones. I hope you'll check out the site and like what you see. Crossed accepts players from beginners level and we'll do our darnedest to make you all feel at home!
~*~ ~*~ ~*~
Sunnydale is nothing but an empty space on the map, leaving the gang unsure what to do. Their home may have been a Hellmouth, but can they really let it go? Willow is sure she can find a way to restore it to its former glory. After a relocation to Cleveland and endless research, Willow discovers a freaky ancient book that may hold the solution. There's a passage which seems to be about restoration.
What could possible go wrong?
Sunnydale reappeared as if from nowhere and life resumed as if nothing ever happened - with thanks to some memory erasing. But the spell was much bigger than they thought...
The group is slowly discovering that they summoned much more than the ruins of Sunnydale. They put Richard Wilkins III back in his position of power as Mayor, Sunnydale High is under old management, there has been a few familiar faces seen around the town and, once again, a great evil is stirring beneath.
Portals within the Heavens and Hells were opened and anyone with the will to live struggled and fought their way back to Earth - still not sure how someone like Snyder got out, but he did it! Some have no memory of their afterlife while others have either joyous or painful flashbacks. Their experiences have even changed some for the better...and some for the worst.
The Scoobies and Angel's team have joined forces once again to do battle with foes, old and new. The gang have split up and are now guarding the most volatile areas; Sunnydale, Los Angeles and Cleveland, as well as England where Giles is the head of the newly rebuilt Watcher's Council.
The hundreds of Potential Slayers have been divided among these four places where they are being trained. The spell Willow cast to bring them into their powers did not make them fully fledged Slayers so they must prepare. If either Buffy or Faith should die, even for a moment, one of those many girls would become the new Chosen One.
Gateways have been unlocked to other worlds and nobody knows where they are. So, mind your step.
Where do your allegiances lie? With the wicked or with the good?

Will you fight with the Scoobies to once again destroy the enemies that caused so much havoc and heartache in the past? Or will you join those formidable forces?
There's only one thing left to do. Join the battle.
HOME
.::.
CANON LIST
.::.
FACE CLAIM
.::.
ADVERTISE
[/center]